This article contains the FAQs for the CV100UK Series Shark® Bagless Cylinder Vacuum. This supports the following product SKUs CV100UK and CV100UKT.
What is the length of the cord?
What is the operating radius?
The operating radius is 12.4 metres.
What is the hose length?
Does this model have washable filters and how often should I clean them?
Yes, this model comes with a foam filter that is under the dust cup. Using the dust release cup buttons situated on the pod handle remove the dust cup and you will see the white filter. Pinch this out of the vacuum which will show the felt. Both can be washed in water. Make sure they are completely dry before placing back in. There is also a HEPA filter which is located at the end of your cylinder where the plug is. Release flap and your filter will be visible. We recommend that you rinse once a month for optimal cleaning performance. Make sure is it is completely dry before replacing.
What is the size of the motor?
Why are there two settings on my floor nozzle?
This allows you to switch from carpet to hard floor. When on hard floor the bristles are more visible to protect your floor.
Why am I struggling to move my floor nozzle?
Due to the excellent suction of the unit, make sure that you have selected the right floor icon and use the manual control on your handle to position to match your floor setting. When on carpet, this reduces the suction slightly, making it easier to manoeuvre without affecting performance.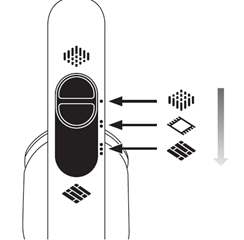 How does Anti-Allergen Complete Seal Work?
Shark's Anti-Allergen Complete Seal captures and traps 99.9% of dust and allergens inside the vacuum, not releasing them back into the air you breathe.
How many settings does this vacuum have?
2 settings – suitable for hard floor, low pile and thick carpet.
What is the capacity of the dust cup?
Where are can I buy additional parts and accessories?
Parts and accessories are available here.